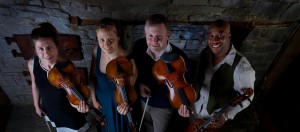 Great Music at St. Bart's presents New Hampshire's Apple Hill String Quartet in the Chapel of St. Bartholomew's Church–a beautiful, intimate space perfectly suited to chamber music–on Sunday, March 5, 2017, at 2:30 pm. The quartet will perform the world premiere of John Harbison's Presences for string quartet, cello, and bass; Ahmed Saygun's String Quartet No. 1 (which is featured on the ensemble's latest recording); and Haydn's String Quartet Op. 54, No. 2, in C Major. Joining Apple Hill for the Harbison work are Sphinx Award winner Tony Rymer, cello, and the New York Philharmonic's Max Zeugner, string bass, both alumni of Apple Hill's Summer Chamber Music Workshop.
This is the Apple Hill String Quartet's seventh annual appearance on the St. Bart's series. Last March, the ensemble offered a performance of Pavel Haas's String Quartet No. 2, From the Monkey Mountains, that The Strad magazine called "extraordinary."
Patrick Castillo, composer and board member of the Mid-Manhattan Performing Arts Foundation, which produces Great Music at St. Bart's, will interview John Harbison in a pre-concert talk in the Chapel at 1:30 pm. Harbison's new work Presences was commissioned in memory of David Anderson, a young student cellist who studied at the Apple Hill Center for Chamber Music in Nelson, New Hampshire, the quartet's home.
Presences—for solo cello, string quartet, and bass viol—was commissioned by Charles Felsenthal to honor his friend, the young cellist David Anderson (1978-1998).  With the help of many materials furnished to me by the commissioner—news articles, photographs, concert programs, poems, and personal memories—I conceived of an informal, unstylized piece, not a threnody or tombeau, but something which might permit David Anderson's cello-voice—which unfortunately I never heard or knew—to be known and heard again through the porous curtain which shields us from the other side.

—John Harbison (2015)
Tickets