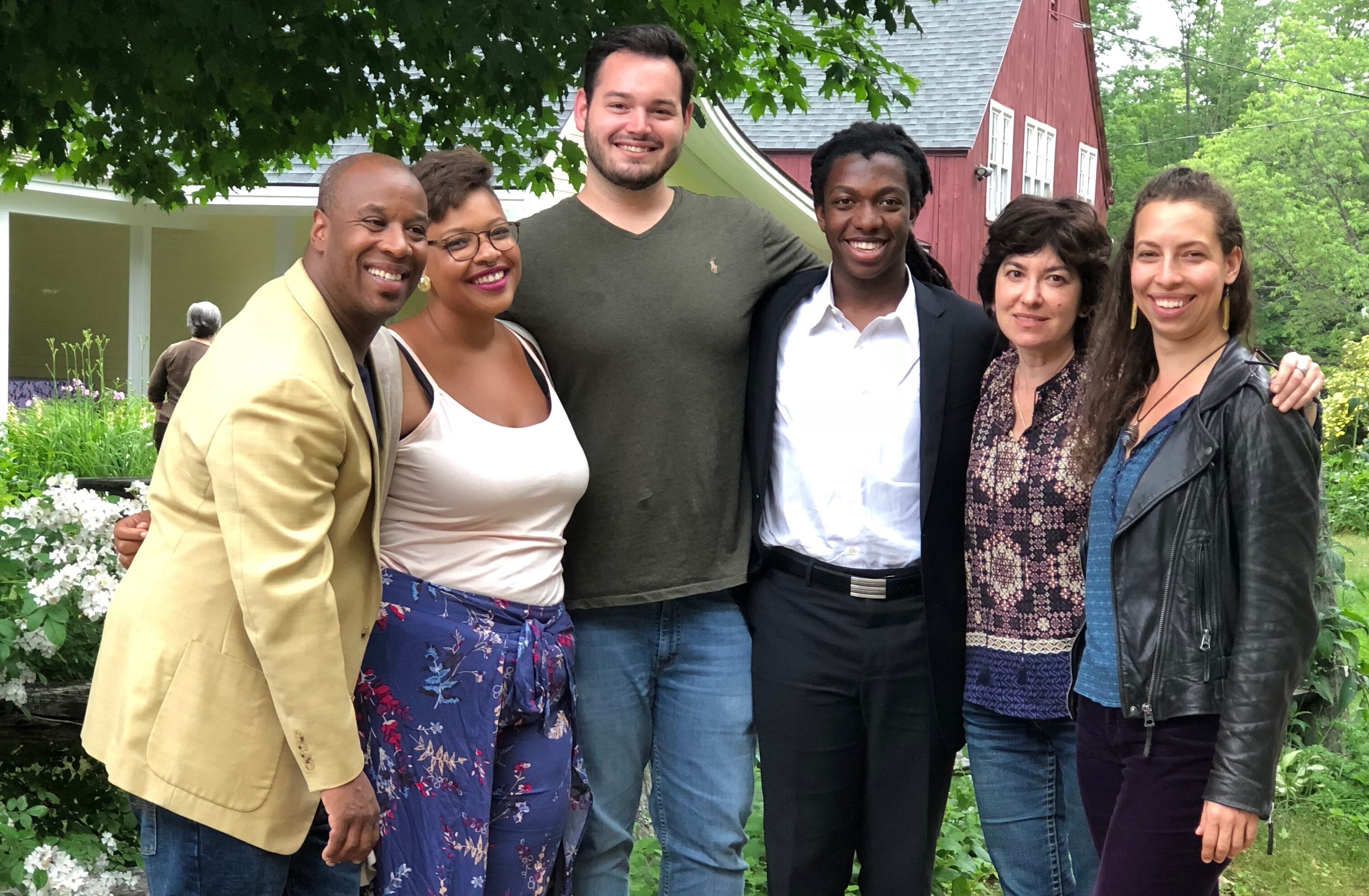 Apple Hill String Quartet cellist Rupert Thompson (left) with Summer Workshop students
---
Apple Hill nourishes the soul. – Summer participant from Israel
Central to Apple Hill is Playing for Peace, our guiding philosophy of creating community and fostering artistic growth through chamber music. Playing for Peace was founded in 1988 to assemble musicians from areas in political conflict to play chamber music together. Over the span of 30 years, the program has grown to include many other communities that are underrepresented in classical music, separated by racial or ethnic discord, or experiencing inequality based on gender, orientation, religion, age, and playing level. Our teaching philosophy focuses on the skills of chamber music–watching, listening, sensitivity, flexibility, and adjusting–the very same skills we all need to work and function effectively in the world. Everyone learns not only to play music, but also to communicate, connect with, and trust each other in ways that may not be possible in their home communities.
Because Apple Hill is alive with people from all over the word doing a task together, our chamber music is not just an artistic, academic, or technical pursuit, but a powerful catalyst for connection.
In order for Apple Hill to ensure diversity and acceptance, we have formed partnerships with similar music programs and institutions around the world. These include embassies, universities, schools, conservatories, and youth orchestras in many countries, as well as organizations that reflect the racial and ethnic diversity of our U.S. communities such as Project STEP in Boston; Dallas Young Strings in Dallas, Texas; Community MusicWorks in Providence; the Juilliard MAPS program in New York City; Burncoat High School in Worcester; and schools in San Francisco, Los Angeles, Baltimore, Washington D.C., and Memphis. Through scholarship programs with these organizations, students who would otherwise not have access are able to attend Apple Hill's Summer Workshop.
Students arrive to Apple Hill from New Hampshire, many U.S. cities and states, and around the world to work with one another in an atmosphere that promotes diversity, creativity, and understanding through excellence in music.
Photo (top) by Michael Petit