Dear Friend of Apple Hill,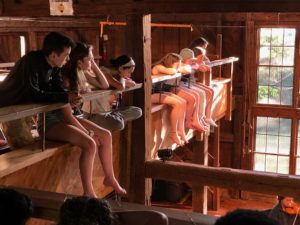 I first came to Apple Hill as a city kid from Philadelphia in the summer of 1976. The bucolic setting with music wafting across the landscape was a feast for my senses. I vividly recall the open sky with stars shooting through a denser array of dots and constellations than I had ever seen. I remember being introduced to the woodwind quintets of Paul Hindemith, Walter Piston, and Ingolf Dahl, indelibly redolent of the sweet country air permeating the rustic practice tree-houses. I remember sitting with new friends in the barn loft, bare feet dangling through the rafters, mesmerized by a faculty showcase of superb artistry.
Above all, Apple Hill's biggest imprint is its indescribable magic…the elusive, transformative power that helps shape us all as human beings. I am certain that I learned to listen, problem-solve, communicate, and collaborate with others through Apple Hill's rigorous program of chamber music instruction in a communal atmosphere of encouragement and support.
What a thrill to rediscover that magic as a participant again in 2018, sharing a yurt and playing with my two grown daughters. I made more discoveries:  one never graduates from Apple Hill; mice still come to rehearsals; and I am still so grateful for all that Apple Hill has given me. Each year, I am happy to send a gift to Apple Hill in appreciation.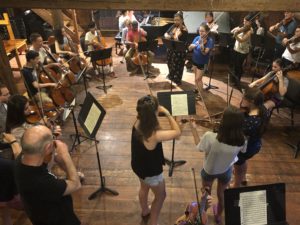 In a fortuitous turn of events, I find myself recently re-located to New Hampshire and back again at Apple Hill, this time in a staff role. From my new perch, I now see Apple Hill's impact reaching far beyond its converted barn and farmhouse—throughout the world and to future generations. This past summer saw 300 students attend, ages 13 to 80, from 31 states and 10 countries. Past participants have founded music schools in their home countries or have been inspired to pursue higher-level schooling in music. Others go on to different careers but continue to play and appreciate music throughout their lives. The Apple Hill String Quartet tours the region, the country, and the world, recruiting summer participants and treating enthusiastic audiences to standards of the classical chamber music canon, music of other cultures, lesser-known composers, and music of our time.
Please consider a gift now in appreciation of Apple Hill's magic. Your generosity makes it possible for Apple Hill to retain its top coaching faculty of 45, provide tuition assistance for over 100 domestic and international students, maintain the 41 buildings on our 100 beautiful acres, and present world-class concerts here and around the globe.
Sincerely,
Rebecca Abrams Sayles
Development Officer
Apple Hill student (flute) '76, '77, '18, '19; Apple Hill parent
Donate