Building Dreams
At Apple Hill, we are realizing our dream of bringing students together from all over the world to live, create, relax, replenish, and converse. We teach people how to experience the true essence of music and how to relate to each other by using the skills of chamber music. When students are here, this is their physical and creative home.


Apple Hill spans 100 acres with 41 buildings. Over the past decade, we have focused on improving the living environment for everyone, from upgraded living and practice spaces for 300 students who live in 22 cabins, two-thirds of which have been updated, to completion of the Sugarhouse, which provides year-round housing; the Rehearsal Barn, a bath and shower building, a small kitchenette, and the beautiful Hoffman Community Auditorium.
Our most recent dream was to upgrade the central campus buildings—the kitchen, winter/green room, and breezeway areas. By summer 2021, the majority of the project was completed. The finishing touches will be in place by summer 2022. The design created more public space; a transformed entrance and lobby area; an expanded kitchen that includes a dishwashing station; more space for the winter room, now known as the green room; a new accessible rest room adjacent to the entrance lobby; new practice rooms; new mechanicals and storage in the basement; and decks that allow the public to enjoy the outdoors.
As we celebrate our 50th year and look ahead to a time when it is once again safe to gather in person, we strive to make our campus welcoming and accessible to all. Our upgraded physical space is an essential ingredient to our continued viability. It offers us additional capacity, positive residential experiences and camper comfort, and a campus that reflects the beautiful, natural setting of Nelson, NH.
Come and dream along with us!
---

Facilities Rental
Apple Hill is located in Nelson, NH, on 100 acres of fields and woods, in the Monadnock Region of southern New Hampshire. Its facilities are available to rent between late August and early June for weddings, parties, conferences, meetings, school groups, and other functions.
In addition to the lawn and garden areas that can be used for outdoor events, we have a number of rooms available:
The Hoffman Auditorium (capacity about 60) is available year round and has a small kitchen with two ovens, a sink, a refrigerator, and a freezer.
The Concert Barn (capacity 120) is an unheated space which can be used when the weather permits. There are full kitchen facilities attached.
Several unheated rustic cabins can be rented for overnight use.
The unheated Rehearsal Barn has several rooms which can be used for small breakout groups.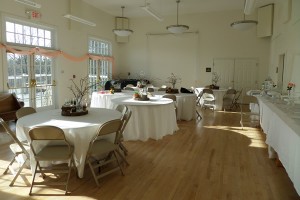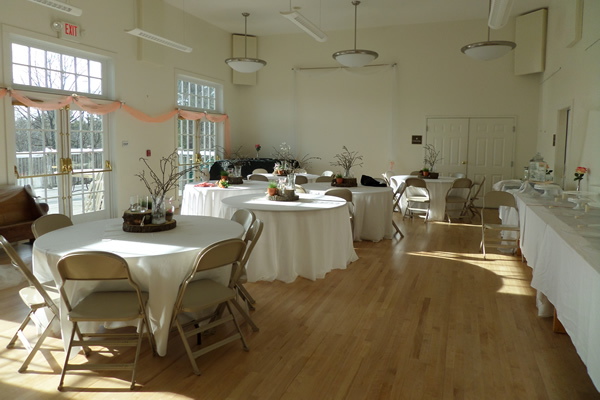 Individual rooms, groups of rooms, or the whole facility can be rented on an hourly, daily, or weekly basis. Rates vary and discounts are available for non-profit groups. For more information or to make a booking, please call 603-847-3371 or email Richard@applehill.org.