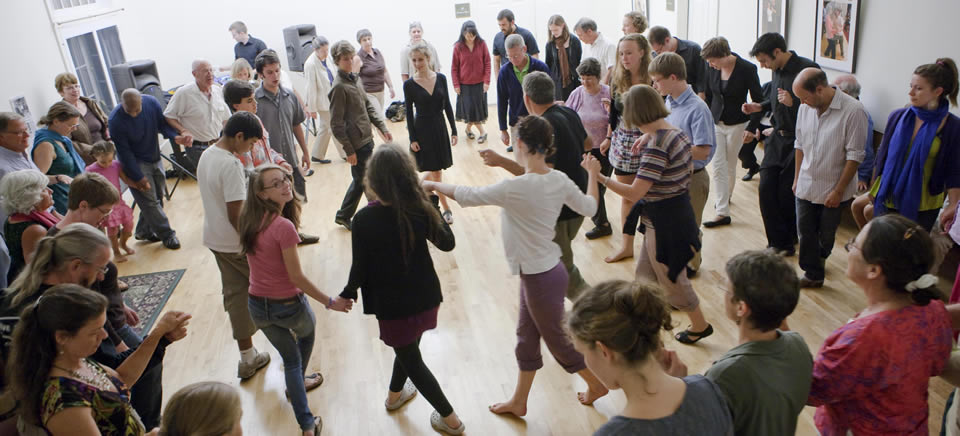 An Inclusive Community
Apple Hill is founded on three values: Everyone is accepted for who they are; everyone has an expressive voice; and everyone deserves to be supported and encouraged equally. Since groups are formed according to ability and not age, a chamber group may bring together professional and conservatory musicians, college students, adult amateurs, high school students, physicians, computer scientists, and schoolteachers. Participants come from all corners of the United States and such distant points as Israel, Egypt, Jordan, Syria, Turkey, Cyprus, Northern Ireland and the Republic of Ireland, Malaysia, Haiti, and Mexico through the Playing for Peace program. Some participants are just beginning to play chamber music; others are pursuing active professional careers.
Guidance and Supervision
During each 10-day session, nine faculty members coach a total of twenty-seven participant ensembles. Overseeing camp operations are one Music Director, three Camp Directors, and nine Counselor Workers, whose duties include planning and facilitating activities, providing rehearsal assistance, and fostering community. Each Counselor Worker is assigned to a cabin and supervises underage participants therein. Also on-site are Apple Hill's year-round employees, including Director Lenny Matczynski and Summer Workshop Administrative Director Amelia Perron.
Sharing Music
Chamber groups share their music in a variety of ways. Ensembles may choose to perform for the community after a mid-week lunch or dinner. Faculty offer concerts each Tuesday, prefaced by listenUP!, a pre-concert talk by Director Lenny Matczynski. Through the session, participants can take part in faculty-led masterclasses, attend faculty open rehearsals, sight-read chamber music with fellow participants, or seek practice help from teaching assistants. Each session concludes with participant concerts, held the final Saturday evening (7pm) and Sunday afternoon (1:30pm). The final concerts are open to friends and family members.
Recreational Activities
Recreation and relaxation are essential balancing elements to the Apple Hill experience. Daily activities include soccer games and swimming at nearby Otter Brook State Park, ping-pong, dancing, and theatrical activities. Participants and faculty hike nearby mountain trails, jog or walk the famous 4.2 mile cross-country "Loop," and contra dance in Nelson at the longest continuously held contra dance in the country. In this intergenerational environment which combines structure with choice, extra supervision for younger participants is provided as needed.
Facilities
Apple Hill is located on a rural, 100-acre former farm in the Monadnock region of Southern New Hampshire. The heart of Apple Hill is the Concert Barn—home of countless rehearsals, public and participant concerts, and shared meals. There are additional gathering spaces on campus for quiet reading or group activities. On the slopes of the property are cabins that each house one to six persons. These are equipped with electric lights and outlets, foam mattresses, and screened windows. Bathrooms and showers are in two centrally-located bathhouses.
Buffet-style meals are delicious and plentiful. With advance notice, the kitchen staff can accommodate food allergies and special dietary restrictions.
There are rooms for group and individual practice in the Rehearsal Barn and practice cabins scattered in the woods.
Click here for a packing list.
Adult Housing
Adult participants who do not want to reside in cabins can now stay in a private home within a ten-minute drive of Apple Hill. Nearby homeowners will provide a comfortable bedroom and the use of a bathroom. Cost of accommodation is an additional $325 for the entire ten-day session.
Sample Daily Schedule
| | |
| --- | --- |
| 8am-8:45 | Breakfast |
| 8:45-10:15 | Period 1 |
| 10:30-noon | Period 2 |
| 12:15pm | Lunch |
| 1:30-3 | Period 3 |
| 3:15-4:45 | Period 4 |
| 5-6:30 | Soccer and swimming at nearby Otter Brook Park. |
| 6:30-7:15 | Dinner |
| 7:15 | Informal participant performances |
| 8 | Evening activities |
| 12:00 | Curfew. |
Each participant will be assigned two chamber groups, both of which will be coached one period each day. The two remaining periods are for "crew duties" — simple chores to help the camp run smoothly — and practicing or relaxing.
Evening Activities
First Friday: Singing, sight-reading, and get-to-know you activities.
First Saturday: A quick hike up Pitcher Mountain to watch the sunset. This is a short hike that is accessible for nearly everyone. Ice cream in Keene afterward. (Please bring $5-10 for ice cream as it is not included in tuition.)
First Sunday: Open rehearsals/coachings/seminars by faculty or fellowship ensembles or guest artists. Open to the public.
Monday: Contradancing in Nelson, NH: Take part in the longest-running contradance in the country and learn about a local dance form. Please bring $3 admission contribution.
Tuesday: Faculty concert, open to the public. Concert program will be listed online in the spring. Followed by a dance for participants and faculty.
Wednesday: Day off from rehearsals and scheduled activities.
Thursday: Masterclasses run by the faculty for each instrument. Bring solo repertoire or a challenging passage from your assignment to play, or just listen.
Second Friday: Skultures Night. Share music, dance, etc from your culture, or create a fun skit. Skit night meets cultures night.
Second Saturday: Participant concerts at 7pm. Open to family and friends.
Second Sunday: Participant concerts at 1:30pm. Open to family and friends.
Please note that, unless marked otherwise, Summer Chamber Music Workshop activities are not open to the public.
For more information about life at Apple Hill, visit our frequently asked questions page.