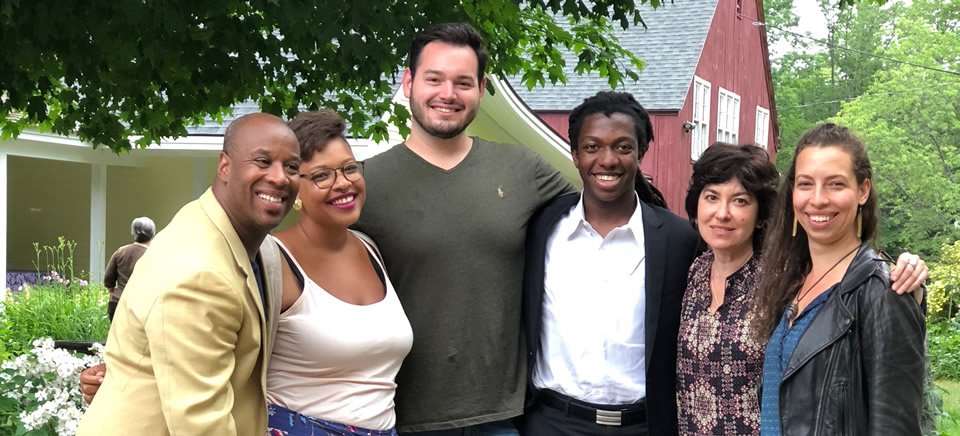 The Summer Workshop scholarship and tuition subsidies program is central to the achievement of our core mission of acceptance and diversity. It supports and is centered around Playing for Peace, our philosophy of inclusion that brings together students and faculty from around the world to play chamber music at Apple Hill. Playing for Peace was founded in 1988 to assemble musicians from areas in political conflict to play chamber music together. Over the span of 30 years, the program has grown to include many other communities, including those who are underrepresented in classical music, separated by racial or ethnic discord, or by differences of gender, orientation, ideology, religion, age, or playing level.  The students work together and are coached daily in pre-assigned small ensembles, without a conductor, using the five skills of chamber music: watching, listening, being sensitive, flexible, and then adapting—the same skills they will need in their daily lives once they return to their home communities.  Students also share meals, indoor and outdoor chores, and socialize together, forming meaningful friendships that enhance their growth.  It takes courage for these students to open themselves to playing and working together musically and socially, and they come to trust, take risks, and connect with each other in ways that transcend boundaries they may encounter back home.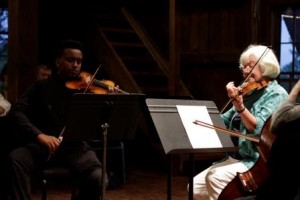 In order for Apple Hill to ensure diversity and acceptance, we have formed partnerships with similar music programs and institutions in the US and around the world. These include embassies, universities, schools, conservatories, and youth orchestras, as well as youth after-school music education programs in the U.S. that are specifically for students underrepresented in classical music or in political conflict.  These programs recommend students to continue their musical pursuits during the summer at Apple Hill and join with Apple Hill to subsidize tuition costs through scholarships.  Partners include Boston's Project STEP, Dallas Young Strings, Providence's Community MusicWorks, Philadelphia's Musicopia, Juilliard's Music Advancement Program, Ireland's Vocational/Education Program, Jordan's King's Academy, and Jerusalem's Hassadna Conservatory.
Our mission is also supported by summer work-study. Students, many who are alumni of the Playing for Peace scholarship program, receive tuition subsidies for their work assistance.  In exchange for daily music coaching and performance, the students assist the Summer Workshop as Camp Directors (CDs) —running the camp on a daily basis; Teaching Assistants (TAs)—assisting the faculty with one-on-one practice help; Counselor Workers (CWs)—mentors to younger campers; or as Young Artist Fellows—young professionals performing throughout the local community.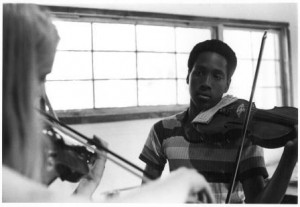 These scholarship and tuition subsidies make possible the invaluable opportunity for students to come to Apple Hill and gain access to the expertise of professional musicians, as well as make connections in the classical music world, learn first-hand about multiple aspects of leadership, arts administration, board membership, community engagement, teaching artistry, and the mentoring of younger campers.  We empower our students through music to be creative, believe in themselves, and imagine new possibilities outside of Apple Hill as leaders and contributors to society.  These tools of perseverance, social leadership, self-confidence, problem solving, and strong work ethic are applicable in their future pursuits.
Our Summer Workshop alumni are indelibly influenced by the special values and lessons learned at Apple Hill.  After attending for many summers, some go on to other careers but continue to play and appreciate music throughout their lives. Some have gone on to found music schools in their home communities or have been inspired to pursue higher-level schooling and careers in music, promoting Apple Hill's teaching philosophy of inclusion and community building through music.