Learn about Javier Caballero, Apple Hill's new director, and the Apple Hill String Quartet.

Richard Anderson, Facilities Manager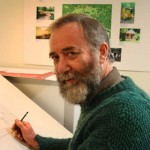 Richard Anderson was born in London, grew up in London and Norwich, Great Britain, and studied physics at the University of London. He worked as a builder before meeting his wife, Suzanne, and moving to the US. He has worked in construction in Oregon and Pennsylvania, taught wood-working at a Waldorf School in San Francisco, and taken care of developmentally disabled people in New Hampshire. After settling in Harrisville with Suzanne and their son, Galen, Richard was a bus driver for the Keene Waldorf School. He began working at Apple Hill in 2002, driving the bus and doing odd jobs, and has worked here full time since 2008. He enjoys reading, watching movies and Boston sports teams, skiing, hiking, camping, and traveling.
Contact: richard@applehill.org
Keegan Brosseau, Facilities Assistant
Gail Malitas, Office Administrator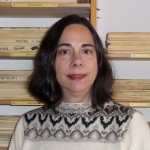 Gail comes to Apple Hill with a varied background. She spent over 15 years as an outside sales rep of industrial products, then parlayed that experience into being a major gift officer at Northfield Mount Hermon School. It helped that she had been a class agent for her Bowdoin class, raising money for the Alumni Fund, for years.
After leaving NMH, she joined the Keene Chorale and was asked to serve on the board, where she is now the Fundraising Chair. She also serves on the board of Monadnock Arts Alive! and Raylynmor Opera.
She started with Apple Hill as a grant writer, and in the summer of 2013 filled in for Amelia as Summer Coordinator for a month. In November of that year she came on as Administrative Coordinator and continues as such.
Contact: gail@applehill.org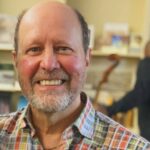 Lenny Matczynski, Director Emeritus
With a career in the performing arts spanning over 30 years, Leonard Matczynski has worked as a concert violist, teacher, and arts administrator. As the former Director of Apple Hill (2007-2022), he made decisions that shaped Apple Hill's performance and administrative structure, its concert and touring programs, the Playing for Peace initiative, its long-range plans, and the development of new programs, while serving as the spokesperson for Apple Hill's mission and its representative to the music community, patrons, and audiences.
As a concert violist, he studied with Martha Strongin Katz, Heidi Castleman, and Karen Tuttle, participated in chamber music studies with members of the Budapest, Cleveland, and Guarneri Quartets, and pursued advanced studies at the International Musician's Seminar in Prussia Cove, England, with Sandor Vegh. In addition to his teaching activities with Apple Hill, he has been on the faculty of Walnut Hill School for the Arts, New England Conservatory of Music, Boston Conservatory at Berklee, and the Tanglewood Music Center.
From 1993-2007, he was the founding executive director of Boston's Emmanuel Music, responsible for the organization's development through performances of Bach Cantatas; the complete chamber, vocal, and piano works of Debussy, Brahms, Schubert, Schumann, Stravinsky, and John Harbison; operas by Handel, Mozart, and Schubert; as well as innovative collaborations and tours with stage director Peter Sellars, choreographer Mark Morris, and mezzo-soprano Lorraine Hunt Lieberson.
Outside of Apple Hill, he received the 2021 Ewing Arts Lifetime Achievement award for artistic excellence in the Monadnock region; was one of the founders and past chairs of Arts Alive, an organization that promotes arts and culture in the Monadnock region of NH; and was chosen to participate in the 2016 Leadership NH program, a program that increases civic involvement in communities by educating and connecting leaders from throughout the state of NH.
Contact: lenny@applehill.org
Jan Woiler Meuse, Director of Development
Jan Woiler Meuse is a fundraising professional with over two decades of experience in the arts nonprofit sector. She comes to Apple Hill having recently served as director of institutional giving for the Boston Children's Chorus (BCC). For fifteen years, Jan was a key contributor in building BCC from start-up to a leader in the field of youth arts programs. In addition to planning and managing all aspects of BCC's institutional giving program, Jan is most gratified by having authored the nomination that led to BCC receiving the National Youth Arts Award from the President's Committee on the Arts and Humanities. The award was presented by First Lady Michelle Obama at the White House in 2013.
Early in her career, a fourteen-year tenure as an administrator at BankBoston enabled Jan to take on part-time generalist roles with the Civic Symphony Orchestra of Boston, Triptych Chamber Ensemble, and Libana, a renowned seven-woman world folk music ensemble. These experiences led to her first full-time general manager role with the Zamir Chorale of Boston in 2000. At Zamir, Jan managed the development process, oversaw self-produced concert logistics, and was the primary client liaison for regional contracted performances as well as tours to Florida and Maryland.
As a violinist, Jan played for fourteen years with the Boston Philharmonic. She has also toured the Czech Republic, Spain, France, and Italy, including an appearance at the Spoleto Festival, with the Santa Monica Chamber Symphony. Since 2005 she has served as concertmaster for Mont Vernon Congregational Church's annual performances of The Messiah.
Since 1998, she has held the role of onsite social events coordinator and is a participant for The Chamber Music Conference & Composers' Forum of the East (aka Bennington; now named the Chamber Music Conference). Other workshops Jan has attended include KentMusic, Boston Chamber Music Society, Rockport Fall Foliage, Wyoda, and Triple Helix. Jan earned a Bachelor of Arts degree in Sociology from the State University of New York at Binghamton. She lives in Londonderry, NH with her husband and two cats.
Contact: jan@applehill.org
Amelia Perron, Summer Workshop Administrative Director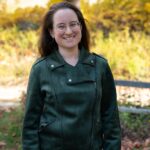 Amelia began her association with Apple Hill in 2003 as a Summer Chamber Music Workshop participant. She joined the staff as Summer Coordinator in 2008, after receiving her Bachelor of Music in violin performance, summa cum laude, from Lawrence University. As a freelance violinist, she has performed with several local ensembles, most recently Symphony New Hampshire, and enjoys playing chamber music. In interludes away from Apple Hill, she has lived, studied, and worked in Paris and Provence.
Contact: amelia@applehill.org