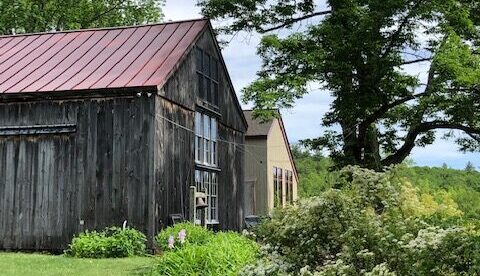 Mission of Apple Hill
Apple Hill exists to perform, teach, and broaden the appreciation of chamber music—cultivating connection and understanding among people of diverse backgrounds, cultures, playing levels, and ages through music performance and education centered around the values of acceptance, inclusivity, creative expression, and encouragement.
---
Winner of the 2015 CMAcclaim award from Chamber Music America and the Ewing Arts award from NH's Monadnock region, Apple Hill is a non-profit arts organization, situated on 100 acres of fields and woodlands in rural New Hampshire, that offers educational and mentoring programs each year to 300 students on-site as part of the Summer Chamber Music Workshop and to thousands more throughout the world while producing approximately 60 concerts each year. These concerts feature Apple Hill's resident ensemble, the Apple Hill String Quartet; Workshop faculty; and students in venues throughout N.H., the U.S., and across the globe. Over 50,000 students from around the world have attended Apple Hill's workshops since its founding in 1971.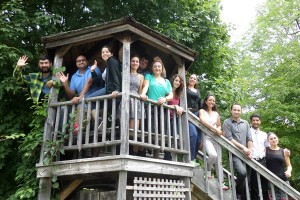 Central to the mission of Apple Hill is Playing for Peace, a program about the power of diversity and acceptance. In an effort to break down walls, students with cultural, ethnic, religious, economic, and political differences are paired together in small ensembles. They are coached on the five skills of chamber music–listening, watching, adjusting, sensitivity, and being flexible—the same skills they will need to work and function effectively in the world. Everyone learns not only to play music but also to communicate and connect with each other in ways that may not be possible in their home communities.
Apple Hill extends not only musical coaching but mentorship as well. During a residency, the students experience the warm family atmosphere of Apple Hill and become part of the larger camp community, sharing meals, chores, and social events; creating a unique musical as well as human community.
Playing for Peace is considered a unique model for social and cultural exchange. The goal for this program is to offer everyone a unique opportunity to transcend national and cultural boundaries and create meaningful bonds of friendship and understanding while participating in an exceptional pedagogical program that encourages leadership and the development of confidence, creativity, and ambition.
Apple Hill uses chamber music as the educator to teach the importance of leadership, teamwork, and friendship.
---
Land Acknowledgement
Apple Hill is located on N'dakinna, the traditional homeland of the Abenaki, Pennacook, and Wabanaki Peoples. We acknowledge and honor with gratitude the Native history and culture of the Monadnock Region, past, present, and future.
---
Apple Hill is committed to making our programs accessible to all. Please contact us at music@applehill.org  or 603-847-3371 for additional information or if you have any questions.