About the Summer Chamber Music Workshop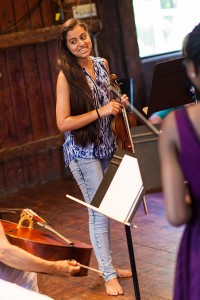 With equal focus on rigorous instruction and supportive community, the Summer Chamber Music Workshop has fostered musical growth since its founding in 1971. The Apple Hill String Quartet and renowned faculty coach musicians of all ages, levels, and cultures who are placed in chamber groups by ability rather than age.
Read about our educational philosophy.
The summer program is divided into five 10-day sessions, with each session attended by 60 participants ranging in age from 13 to 80. Each student is assigned two chamber groups per session. Music is chosen with the expectation that participants will practice and learn their parts before arrival at Apple Hill. Chamber music literature requests are carefully considered and, when possible, honored.
Each ensemble is coached daily for 1 1/2 hours. In the student concerts that close each session, all groups have the opportunity to perform for an appreciative and encouraging audience of fellow participants and faculty. In keeping with the spirit of Apple Hill, all participants are asked to perform simple, daily tasks to help run Apple Hill during their session.
Pre-formed ensembles may apply. These groups will be coached, and individuals in these groups will also be mixed into new ensembles with other members of the participant community. Each member of a pre-formed group must apply separately.
Opportunities abound for structured and unstructured sight-reading of chamber music literature. Faculty members provide additional instrumental and musical consultations as their schedules permit.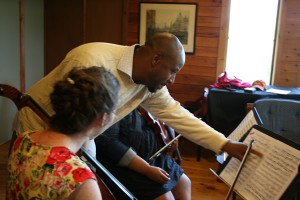 Apple Hill believes in honoring the special voice in all musicians. We coach, encourage, and applaud all groups equally, from high level ensembles to those with participants who are just starting to play chamber music. Our goal is to use the tools of coaching and performance to build confidence and ability in each student.
We accept orchestral instruments, voice, and piano.
Apple Hill is committed to making our programs accessible to all. Please contact us at amelia@applehill.org or 603-847-3371 for additional information or if you have any questions.
Learn more about life at Apple Hill and many frequently asked questions.
Please note: When dropping off participants or attending concerts, please leave your pets at home. Pets are not allowed anywhere on the Apple Hill campus.