About the Summer Chamber Music Workshop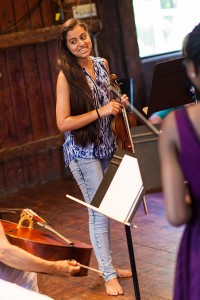 With equal focus on rigorous instruction and supportive community, the Summer Chamber Music Workshop has fostered musical growth since its founding in 1971. Director Lenny Matczynski, the Apple Hill String Quartet and renowned faculty coach musicians of all ages, levels, and cultures who are placed in chamber groups by ability rather than age.
Read about our educational philosophy.
A message about Summer 2021
Update, May 27, 2021: Enrollment for the Summer Chamber Music Workshop 2021 is now closed. The available spots (two sessions, 25 spots each) were filled with students who had been accepted to the 2020 workshop. Please contact Amelia with any questions. If we missed you this year, we hope to see you in 2022!
Dear Apple Hill Community,
We are writing to let you know that we are excitedly making tentative plans for two in-person Summer Workshop sessions this August: Sunday, August 8 through Friday, August 13 and Sunday, August 15 through Friday, August 20. We will also present another virtual Summer Concert Series, with nine Tuesday night live stream concerts featuring the Apple Hill String Quartet and summer faculty.
As guidelines are changing regularly, we anticipate having more information in the upcoming months and a final decision by May 1.
What we do know is that the sessions will be shorter with a smaller student enrollment and fewer faculty to allow more room to socially distance. We are looking into the best way to accommodate everyone, as well as developing rules around vaccinations, distancing, mask wearing, and forming a session "bubble." We'll fine-tune these protocols after we receive further guidance from the state of New Hampshire and medical experts. Our goal is to have a healthy and safe environment for students, faculty, and the greater community while meeting or exceeding state and national regulations and best practices to prevent the spread of COVID-19 during the sessions.
As we will not be adhering to typical timelines or procedures, we ask for your patience and flexibility as we attempt to create the best summer for everyone.
We are also excited that when students return to Apple Hill, our central campus construction will be completed! But due to a 6-month pandemic-related delay, we will need from now until the end of July to finish the kitchen, bathroom, and rehearsal spaces that will make sessions more comfortable and enjoyable than ever.
In the next week to 10 days, Amelia will personally contact those students who chose to credit their 2020 tuition payments to 2021. Applications and more detailed information about the sessions and our health and safety protocols will be available online May 1.
We look forward to seeing you here on campus again soon! In the meantime, we invite you to join us online for our ongoing virtual concert series. Click here to see upcoming events, or visit our YouTube channel to see previous concerts, events, and workshops.
Please feel free to contact Amelia with any questions at amelia@applehill.org.
Apple Hill on YouTube
---
Please note: Some of the aspects of the summer program, such as session length and enrollment, will likely be different in the 2021 workshop than are described below. More information will be available May 1.
The summer program is divided into five 10-day sessions, with each session attended by 60 participants ranging in age from 13 to 80. Each student is assigned two chamber groups per session. Music is chosen with the expectation that participants will practice and learn their parts before arrival at Apple Hill. Chamber music literature requests are carefully considered and, when possible, honored.
Each ensemble is coached daily for 1 1/2 hours. In the student concerts that close each session, all groups have the opportunity to perform for an appreciative and encouraging audience of fellow participants, faculty, family, and friends. In keeping with the spirit of Apple Hill, all participants are asked to perform simple, daily tasks to help run Apple Hill during their session.
Pre-formed ensembles may apply. These groups will be coached, and individuals in these groups will also be mixed into new ensembles with other members of the participant community. Each member of a pre-formed group must apply separately.
Opportunities abound for structured and unstructured sight-reading of chamber music and orchestra literature. Faculty members provide additional instrumental and musical consultations as their schedules permit.
Attendance at two sessions is encouraged for those who wish a longer experience at Apple Hill. The two-session experience combines the focus of individual sessions with time between sessions for practice, sight-reading, and recreation.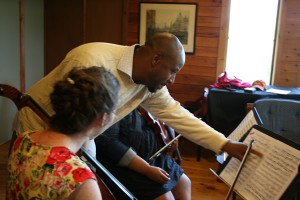 Apple Hill believes in honoring the special voice in all musicians. We coach, encourage, and applaud all groups equally, from high level ensembles to those with participants who are just starting to play chamber music. Our goal is to use the tools of coaching and performance to build confidence and ability in each student.
We accept these instruments: flute, oboe, clarinet, bassoon, French horn, voice, piano, violin, viola, cello, and string bass.
Learn more about life at Apple Hill and many frequently asked questions. Information about the 2021 summer will be available by May 1.
Please note: When dropping off participants or attending concerts, please leave your pets at home. Pets are not allowed anywhere on the Apple Hill campus.