About the Summer Chamber Music Workshop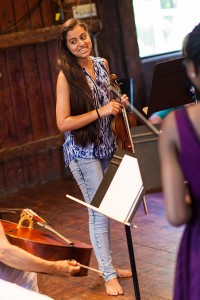 With equal focus on rigorous instruction and supportive community, the Summer Chamber Music Workshop has fostered musical growth since its founding in 1971. Director Lenny Matczynski, the Apple Hill String Quartet and renowned faculty coach musicians of all ages, levels, and cultures who are placed in chamber groups by ability rather than age.
Committed to fulfilling our mission, but with safety concerns of paramount importance, Apple Hill shifted to hosting an abbreviated, online summer program in 2020. Open to all, this combination of concerts, lectures, and discussions embodied the unique and diverse music-making of the Apple Hill community. Videos of live streams are all available on our YouTube channel.
In light of the present challenging times, these programs are presented to all free of charge. Especially now, your donations make this possible. We encourage you to donate now.
Read about our educational philosophy.
---
A message about Summer 2021:
Dear friends,
We are writing to give you an update on where things currently stand for summer 2021. Under the guidance of our Summer 2021 Task Force, we are discussing numerous issues and possibilities, but due to the many unknowns in the progression of the pandemic, we may still be months away from knowing whether summer 2021 will be in person, fully online, or a hybrid.
The Summer Task Force, led by Director Lenny Matczynski, has been meeting regularly, focusing on a central question: How can we offer the most rewarding summer music experience for our community while keeping the risk of covid-19 infection as close to zero as possible? Central to the discussion is up-to-date information from medical experts about the upcoming vaccines and best practices for social distancing, mask use, and other means of preventing transmission of the virus. Equally vital is continuing the work of our mission and our values, and providing the supportive chamber music experience and community that we have all cherished for 50 years.
In the meantime, we want to assure of you two things: First, the health and safety of our community is our top priority, and we will use the most reliable medical and scientific information available to make sure that none of our summer activities put anyone at risk of contracting covid-19. And second, there will be music at Apple Hill next summer, in whatever form it may take. As we learn more and continue to plan, we will keep everyone informed about what to expect next summer.
The prospect of a summer playing chamber music together at Apple Hill is the hope and the light at the end of the tunnel. Thank you all for the incredibly generous support that has allowed us to make it this far. We can't wait to see you next summer—online or on the Hill.
Sincerely,
Lenny Matczynski, Apple Hill Director
Maria Coviello, President, Board of Trustees
Summer 2021 Task Force:
Elise Kuder, Apple Hill String Quartet violinist and co-Artistic Director
Amelia Perron, Summer Workshop Administrative Director
Mark Meess, alumnus, past Board president, and retired physician
Reem Abu-Rahmeh, alumna, educator, and Board Trustee
Javier Caballero, summer faculty, alumnus, and educator
---
The summer program is divided into five 10-day sessions, with each session attended by 60 participants ranging in age from 13 to 80. Each student is assigned two chamber groups per session. Music is chosen with the expectation that participants will practice and learn their parts before arrival at Apple Hill. Chamber music literature requests are carefully considered and, when possible, honored.
Each ensemble is coached daily for 1 1/2 hours. In the student concerts that close each session, all groups have the opportunity to perform for an appreciative and encouraging audience of fellow participants, faculty, family, and friends. In keeping with the spirit of Apple Hill, all participants are asked to perform simple, daily tasks to help run Apple Hill during their session.
Pre-formed ensembles may apply. These groups will be coached, and individuals in these groups will also be mixed into new ensembles with other members of the participant community. Each member of a pre-formed group must apply separately.
Opportunities abound for structured and unstructured sight-reading of chamber music and orchestra literature. Faculty members provide additional instrumental and musical consultations as their schedules permit.
Attendance at two sessions is encouraged for those who wish a longer experience at Apple Hill. The two-session experience combines the focus of individual sessions with time between sessions for practice, sight-reading, and recreation.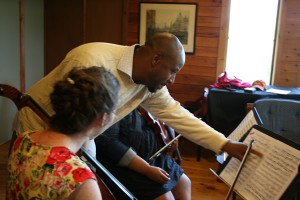 Apple Hill believes in honoring the special voice in all musicians. We coach, encourage, and applaud all groups equally, from high level ensembles to those with participants who are just starting to play chamber music. Our goal is to use the tools of coaching and performance to build confidence and ability in each student.
We accept these instruments: flute, oboe, clarinet, bassoon, French horn, voice, piano, violin, viola, cello, and string bass.
Learn more about dates and fees, life at Apple Hill, and many frequently asked questions. Information about the 2021 summer will be available later this season.
Please note: When dropping off participants or attending concerts, please leave your pets at home. Pets are not allowed anywhere on the Apple Hill campus.