Apple Hill 2014 Playing for Peace Tour
By Lindsay Dearborn, Vice President, Board of Trustees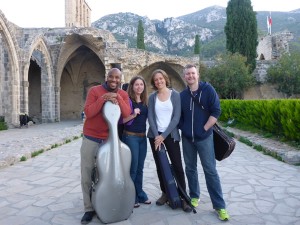 For five years I've listened attentively as Apple Hill Center for Chamber Music Executive Director, Lenny Matczynski, welcomes audiences to the weekly faculty concert series during Apple Hill's Summer Chamber Music Workshop. He feels strongly about Apple Hill's mission and the Playing for Peace program, and he's passionate about how special he feels Apple Hill is: He says it's about connection, and love, and that what Apple Hill does is magic, really.
Never having been a participant at one of Apple Hill's summer chamber music sessions, I've taken his word for it. Oh, I've felt the energy on the campus as it comes alive in summer with music and the excited faces of players from 12-90 years old making music together. I've been aware that something is going on, just not what exactly.
But recently I had the extraordinary opportunity of traveling with the Apple Hill String Quartet on their 2014 Playing for Peace tour to Turkey, Cyprus, Jerusalem, and Jordan. Elise Kuder and Colleen Jennings on violin, Mike Kelly on viola, and Rupert Thompson, cello, make up Apple Hill's resident quartet. They worked giving master classes, workshops and concerts, and I played tourist. I wasn't totally idle, however. I made it my business to observe most everything, and listen, and talk to the Quartet, master class participants, and the musicians who hosted us, who have been participants at Apple Hill in the past.
So is Apple Hill as special as Lenny says it is?? Do the summer participants I met in Turkey, Cyprus, Jerusalem, and Jordan feel as strongly about Apple Hill as its supporters do??
If it's possible, they seem to feel more strongly.
"Apple Hill has played and continues to play such an important part in my life, as a professional musician, as a teacher, as a human being."
-Beste Tiknaz Modiri, Apple Hill summer participant, professor at Istanbul University Conservatory, and violist with the Borusan Istanbul Philharmonic Orchestra

"I definitely know that my life as a musician and as a teacher would have been very different if I had not been involved with Apple Hill."
-Reem Abu Rahmeh, Apple Hill participant and student at Keene State, teacher and music department head at King's Academy in Amman, Jordan

"I've made life-long friendships with people from all over the world…how is that possible in two weeks?"
-Sinem Sadrazam, Apple Hill participant and viola faculty at Eastern Mediterranean University in Cyprus

"Everything about Apple Hill that influenced my life now influences this school where I am."
-Lena Nemirovsky-Wiskind, Apple Hill participant and piano faculty, director of the Jerusalem Conservatory Hassadna
TEACHING MAKES A DIFFERENCE. With master classes and workshops scheduled, teaching is obviously a big part of what the Quartet does on a Playing for Peace tour. From Turkey to Jordan, the Quartet worked with students at the Avni Akyol Fine Arts School, Istanbul University Conservatory, and the Music For Peace Music School in Istanbul; Eastern Mediterranean University in North Cyprus and The English School in South Cyprus; the Jerusalem Conservatory Hassadna in Jerusalem; and King's Academy in Amman, Jordan.
Again and again, our hosts stressed that teaching and learning are different at Apple Hill. For one, "Apple Hill is radically different from any other teaching situation."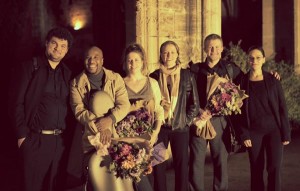 Another remembers Lenny's first talk: "'Whoever you are, you're accepted.' Unlike in the rest of the world, at Apple Hill they love you." A third speaks to "the nurturing and positive environment that allows musicians to grow and flourish."
Without exception, everyone pointed to the genuinely supportive environment, which seems to be very different from what they've experienced elsewhere. "The encouragement, the warmth, hearing that I'm able. I remember my first concert there and everyone screamed and clapped…for me!!! I didn't grow up in this kind of environment…it was very competitive, very authoritarian, so different."
MISSION MAKES A DIFFERENCE. Music is powerful stuff. I think that sentiment is almost cliché at this point. To our hosts in Jordan and Israel, however, it's very real. "At Apple Hill, there's the belief that every musician has a voice that needs to be heard, a belief that to be expressive beyond the surface of the music will transcend differences and barriers, and build friendships, and lead to the creation of community based on listening to each other."
Apple Hill's Playing for Peace program speaks to hearts and minds. It succeeds in creating space for participants, many from different cultures and backgrounds, to grow and feel and become while in each other's company. "One of the things that stands out for me about Apple Hill is being able to make music with people from all over the world, and sometimes 'our enemies'. This was my first face-to-face encounter with Egyptians, Syrians…. and others. I made a really good friend from Syria, but we both knew we couldn't go back and be friends. Maybe Apple Hill can't change personal political views or the overall political situation, but it can change our views of others and of ourselves as people, as human beings."
EXCELLENCE MAKES A DIFFERENCE. Anyone who has attended an Apple Hill String Quartet concert knows that Elise, Colleen, Mike, and Rupert are wonderfully talented, skilled, and expressive musicians. Recruitment of coaching faculty for summer sessions requires the same level of excellence so that every participant, no matter their level, works with top flight musicians.
This level of playing and musicianship is not lost on our hosts, who performed alongside the Quartet at the final concert in their respective countries. "It's such a privilege to play with musicians of their caliber." "They are constantly working to improve themselves and what they do." "It's just so exciting and such an honor to be able to play with them. They're all so wonderful, such great musicians, and so supportive."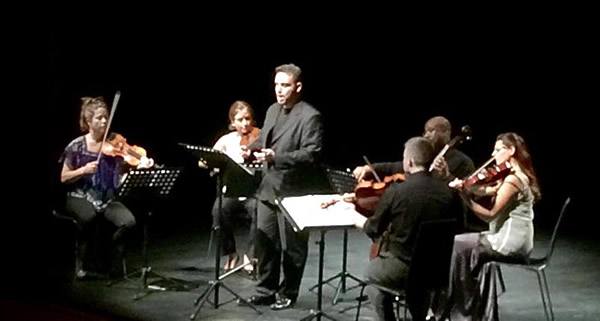 AND SO THE MUSIC PLAYS ON. Organizations want their work to have an impact, to make a difference, to reach across borders – real and imagined – and influence more and more people. Not surprisingly, so do donors. "Are we succeeding in what we set out to do? Does what we do stop here or does it keep moving even beyond our reach? IS THERE THE DESIRED RIPPLE EFFECT??"
The Apple Hill Board of Trustees worries about these kinds of things and talks about them as a way of measuring return on investment. I don't think they have to worry. I have seen with my own eyes the magic that is Apple Hill and how participants go home and model what they've experienced. Apple Hill has changed their lives, and they're determined to pass it along.
"I'm trying to bring what I learned at Apple Hill and Keene State – in teaching and management – to my work at the conservatory."

"Artistically, I'm trying to model my teaching after Apple Hill. I think that what I feel there I could help my students feel here."

"I want to create the Apple Hill atmosphere here. I want to give students this same sense. And now we've sent 20 students there and they are wanting to do the same. I feel very responsible for picking out who we send because I know it will change their life."

"The Quartet empowers people wherever they go, and they're constantly looking for ways to give opportunity and access to people and to young musicians."

"What I learned at Apple Hill is a major part of the approach I have taken with the students here. I feel responsible for helping my students experience that as early as possible, and I notice this has expanded to the rest of the music work that I do within the larger music community here, beyond the school."
I can think of no greater testimony to all the talented and dedicated people at Apple Hill, and all their hard work. Come to the Apple Hill Summer Chamber Music Workshop and see for yourself.