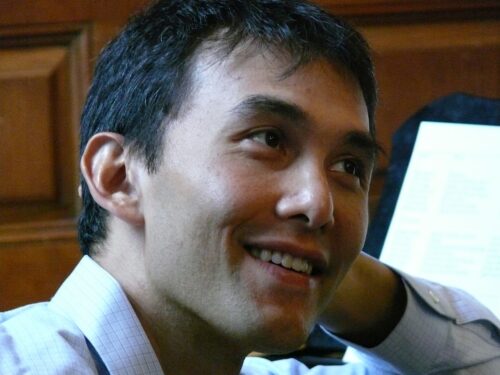 Alexander Solomon, pianist, has performed in concerts across the globe.  Highlights of overseas performances include soloing with a touring orchestra in Ibiza, Spain and a recital at the Chopin house in Valdemosa, Spain.  An avid chamber musician, he has participated in the Taos, Verbier, Norfolk, Ravinia, and Sarasota music festivals.  Mr. Solomon has also been a resident artist at the Banff Centre in Banff, Canada.  More locally, alongside concerts in the New York area and elsewhere in the United States, he has been featured on WQXR's program, Young Artists Showcase.
Most recently, Mr. Solomon soloed with the Waterloo/Cedar Falls Orchestra in Iowa and can often be heard in collaboration with his wife, violinist, Salley Koo.  His achievements include recognition and prizes in the Concert Artist Guild audition, the first International e-Piano Competition, the San Antonio International Piano Competition , Kingsville International Music Competition, the National Federation of Music Clubs Competition, the William Waite Concerto Competition, the Bergen County Philharmonic Concerto Competition, and the Stanford Symphony Orchestra Competition.
Mr. Solomon studied with renowned pianist and pedagogue Leon Fleisher as part of his doctoral studies at the Peabody Conservatory.  Prior to his time in Baltimore, he worked with Peter Frankl, Claude Frank, and Boris Berman at the Yale School of Music, where he earned a master's degree and Artist Diploma.  Mr. Solomon began his studies with Peter Frankl as an undergraduate at Yale University, graduating cum laude with a bachelor's degree in Biology.  At Yale, he was also awarded the New Prize for exemplary representation of Jonathan Edwards College.  He previously studied with Olegna Fuschi at the Juilliard Pre-College Division, where he was recognized as one of six outstanding graduates.  Mr. Solomon also graduated with distinction from Stanford Law School, where he was managing editor of the Law Review.
Mr. Solomon is currently a prosecutor with the United States Attorney's Office for the Eastern District of New York.