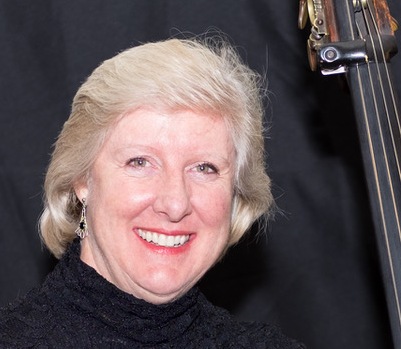 Carolyn Davis Fryer, bassist, has an extensive background as chamber musician, orchestral player, coach and teacher. As a freelance bassist she has toured extensively around Europe, South America, the United States and Mexico. Notable touring opportunities have included travelling to South America with the New York Philharmonic under the direction of Zubin Mehta, multiple U.S. tours with the Brandenburg Ensemble under the direction of Jaime Laredo, and several east coast tours as part of the prestigious "Music from Marlboro" concert series. As guest artist she performed with Isaac Stern at the State Department in Washington D.C., and for the Kennedy Center Honors to honor her mentor, Alexander Schneider, in a nationally televised live broadcast.
Chamber music guest appearances have included performances with Triple Helix, Lavazza, the Colorado and Mendelssohn Quartets, the Orion Trio and Maine Mountain Chamber Music. Ms. Fryer has also spent multiple summers performing in the Grand Teton and Marlboro Music Festivals and the Portland Chamber Music Festival.
Since moving to the Boston area in 1996, Ms. Fryer has performed regularly with the Boston Ballet Company and Boston Musica Viva. In addition to Boston University's School of Fine Arts, she is on the music faculty at the University of Massachusetts in Lowell and, as guest artist, has coached at the Boston University Tanglewood Institute (BUTI) and the New Hampshire All State Chamber Music Festival.
Before moving to Massachusetts, Ms. Fryer was an active freelance musician living and working in New York City where she was Principal Bassist with Philharmonia Virtuosi, performed with the American Ballet Theater, and taught at Rutgers University's Mason Gross School of the Arts and Mannes Preparatory School of Music. She graduated from the Juilliard School where she was awarded the Zimmerman Scholarship for Outstanding Achievement and earned her Bachelor and Master of Music degrees.